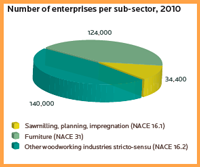 AN INDUSTRY OF SMALL AND MEDIUM-SIZED ENTERPRISES (SMEs)
The companies within the woodworking industry are mostly SMEs, with only a few large groups, typically in the softwood sawmill, panel and parquet sectors, operating on a European or global scale. The total number of businesses in the EU 27 wood industry was estimated at 300,000 in 2010, of which 124,000 are in the furniture sector.
AN EXPORTING INDUSTRY
In 2010, the overall value of EU 27 exports of woodworking products amounted to 19.3 billion EUR, i.e. 15% more than in 2009. Exports of both woodworking products and furniture increased by 19.7% and 11% respectively.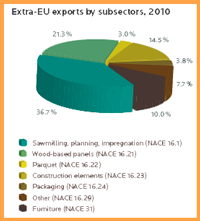 INDUSTRY SECTORS
As main subsectors of the woodworking industries one can distinguish between:
• Furniture
• Sawmilling (sawn and planed timber, engineered wood products, wood preservation, ...)
• Wood-based panels (particleboard, MDF (Medium-Density Fibreboard), OSB (Oriented Strand Board),hard- and softboard and plywood)
• Building components (windows, doors, flooring, industrial joinery, housebuilding, ...)
• Packaging and pallets
• Other (musical instruments, skis,...)
THE CONSTRUCTION SECTOR
The performance of the woodworking industry, even the furniture sector, is highly dependent on the performance of the construction industry, as the vast majority of the products manufactured by the European woodworking industry find their way into the construction sector, both for structural and non-structural applications, as well as for decorative purposes such as furniture. The industry therefore makes a significant contribution to a building segment that represents 12% – 14% on average of EU Member States' GDP.
In the short term, little growth is expected from new construction in Western Europe, most coming from Eastern Europe and from Repairs, Maintenance and Improvement (RMI). RMI currently accounts for roughly 39% of the total residential, and 48% of the non-residential, construction markets in Western Europe; 30% and 32% in Eastern Europe. Timber frames' share of residential construction is growing, particularly in Central Western Europe and the United Kingdom. In Western Europe, the market share is around 7% and in Eastern Europe, it is nearer 3%. The disparity between Western and Eastern European construction output has widened. Eastern Europe has remained attractive to foreign investors, as EU membership has implied less bureaucracy and positive trading conditions with other Member States.
THE FURNITURE SECTOR
The sector is a major user of wood-based panels, but also an important user of sawn wood, especially hardwood. Therefore, the development of the European woodworking industry is closely linked with the furniture sector. In countries like France, Italy and Spain, the furniture sector consists largely of small, artisanal companies, whereas German manufacturers tend to be larger and more 'industrialised', with half of their market accounted for by companies with over 300 employees. Within the new EU Member States, the furniture industry is rapidly gaining in importance.
In 2010, the European furniture industry realised a total production value of more than 91 billion EUR. Italy remains Europe's leading producer and Germany ranks second. Estonia and the United Kingdom made the greatest progress in 2010.