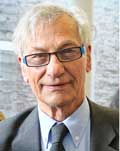 Jan Hoet
In their search for new meanings, whether out of a desire or a necessity to break new ground, which has always been the core business of art, artists today – like society in general – have been showing a growing interest in the ecological perspective and anthropological involvement with nature. As a result, the materials they use possess a tautological reflex with regard to the way they relate to their environment and to the nature of things.
When Joseph Beuys placed basalt blocks next to his 7000 Eichen (7000 Oaks) in order to protect them from heavy weather, he also referred to a past where earth minerals engaged in a direct dialogue with the trees, attempting to raise more 'Umweltbewusstsein' (environmental awareness).
Artist Richard Long operates in a similar but more reserved way, claiming the act of walking as art. He displays traces of these walks in the form of driftwood, found on one of his walks along the bay of Bristol, and 'reduces' them into a carefully arranged rectangle. Whereas artists of the past viewed the landscape from behind their easel, Richard Long places himself in the landscape. To him, the materials function as the fire in the fireplace. They contain traces of the places he has visited: the branches in the forest, the driftwood along rivers or on beaches. It is precisely this material that allows us to have an aesthetic experience, after it has been transformed by the artist from something insignificant or meaningless into something graceful and/or sublime. It is as if art is recreating a platonic love affair between us, the viewers, and the world. This can also serve as an example of the 'playing artist'. I refer to the words by Hegel, who took inspiration from the Aristotelian tradition, which saw natural science as a 'ludus serius' or a 'serious game of rules', which, as life itself, also includes the idea of accidental necessity.
In the same sense, the art of Philippe Ramette is also a game, one that seeks to evoke surreal alienation. His work hovers between reality and fiction, as it is not the function of his prosthetic sculptures or his furniture that prevails, but the concept behind them, and more specifically the ideas and new information they bring about. A joined set of chairs does not meet the expectation of communication, but is more likely to cause indifference and/or a withdrawal into ourselves.
Similarly, Stephan Balkenhol's roughly carved and painted sculptures do not look us straight in the eyes. Set in a surreal atmosphere, the introverted figures appear to be staring in the unknown.
Arne Quinze, known for his gigantic wooden sculptures in public spaces, tends to be more frivolous, and is clearly familiar with the idea of art as a game. As a political artist, Dumitru Gorzo wants to challenge us to take part in a subtle game of conflicts within society, aiming to force us to make autonomous decisions. Often hurtful and eccentric, the artist is not afraid to provoke his audience with a radical view on the art of painting. His representations contain social violence and harshness and present a mixture of eroticism and ecstasy, of craftsmanship and freedom, of painting and sculpture.
Read More
Message of the artistst about "Use of Wood"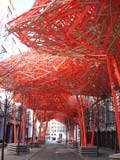 Arne Quinze
Cascade Use of Wood: Use, Reuse, Recycle
The Sequence (2008), a giant wooden installation, was built on the Leuvenseweg in Brussels in 2008, connecting the Flemish Parliament with the House of Flemish Representatives. The construction will eventually be torn down, but the hundreds of wooden planks will be completely recycled and reused for another project.
Besides the artistic message, the work clearly carries an ecological message as well. This work is a good example of Arne Quinze's very contemporary interest in sustainability: "Working with natural material gives the installation a very pure and human aspect. I always work in a sustainable way. This is one of the most important things for me. All used wood has the EFC label, a European standard. For every tree cut there will be planted a new one. All wood is 100% recyclable into new fixtures, and is going to be completely reused after the deconstruction."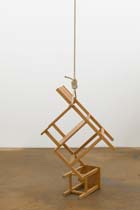 Philippe Ramette
Explore the unexpected facets of wood
Philippe Ramette's work has always been based on the conception and creation of objects maintaining a relation to the body. His series of "objects for reflection" are designed for a specific use, usually indicated by their title, and offer us the chance to experience what is usually only a thought process. Not the objects themselves prevail, but the concept and ideas they conjure up. Through his art, Philippe Ramette creates a world where the conventional laws of nature do not apply, blurring the lines between dream and reality, between objects and subjects; often tinged with a hint of irony. His objects are in constant dialogue with their human characteristics, as in Suicide des Objets (2012), which also contains an allusion to wood as a (formerly) living material.
Stephan Balkenhol
Exploit wood as eternal - lasting sculpture material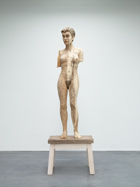 From a sculptor's traditional material, wood, Stephan Balkenhol carves figurative work that mixes references and traditions. Whether sculpting humans, animals, or scenes from his imagination, there is always something strange and enticing about his mute, reserved and peacefully contemplative figures.
Balkenhol's work contains references to the Middle Ages and to the wooden sculpture traditions of the Nordic Renaissance. The sculptures are roughly hewn from one block of wood, usually wawa wood, poplar or Douglas fir. From a distance, his sculptures seem sensual and sturdy, however, on closer inspection, their splintered and chisel-marked surfaces suggest a raw fragility.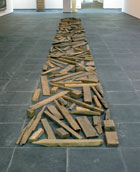 Richard Long
Reuse (drift)wood
A pioneer of Land Art, Richard Long has turned the act of walking into an art form. His work has taken the form of photographs, maps, drawings and sculptures; generally lines or circles constructed from natural materials that Long gathers on his walks. His works articulate ideas about time and space, relativity, natural forces and human experience. For him, the landscape is at once the medium and subject of his work.
"You could say that my work is (...) a balance between the patterns of nature and the formalism of human, abstract ideas like lines and circles. It is where my human characteristics meet the natural forces and patterns of the world, and that is really the kind of subject of my work." (Richard Long: Walking in Circles, p. 250).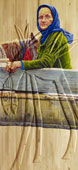 Dumitru Gorzo
Revive traditional wood carving
A large part of Dumitru Gorzo's artwork constitutes a revival of the traditional Romanian wood carving to be found in the artist's native village of Ieud, Maramures. In his paintings on carved wooden reliefs, the artist portrays relatives and neighbours over relief sculptures of primitive characters carved into panels of linden or fir.
The pieces speak of an ongoing engagement with rural Romania, its people and landscape, the use of wood and clay lending the work a natural, earthy quality.