LIFE-CYCLE ANALYSIS (LCA) AND ENVIRONMENTAL PRODUCT DECLARATION (EPD) - TOOLS FOR TACKLING CLIMATE CHANGE
Life-Cycle Analysis
Large distributors who are in direct contact with the end-consumers have recognised the importance of the positive impact of wood products on the environment. It is thus becoming more and more common for them to support implementation of good environmental practices throughout the supply chain, Sustainable Forest Management (SFM), and compliance with all legal requirements including certification and standardisation based on a greater commitment to strict social and environmental criteria.
The role of wood-based products in tackling climate change has a special relevance, which is increasingly recognised by governments. There is a need to develop strategies to support positive influences of the wood-based products on the environment. Therefore, understanding the amount of greenhouse gases (GHGs) emitted during a product's life cycle is a key aspect to consider. Life-Cycle Analysis (LCA) is one of the main tools used to assess such GHG emissions and other environmental impacts. The woodworking sector is starting this analysis from a privileged position because wood stores natural carbon during the entire lifetime of wood products.
LCA is a technique that assesses the environmental impacts of a product throughout its life. It is becoming increasingly important as more and more specifiers are required to consider the environmental impacts of the products and materials they select, taking into account where the material comes from, how it is used or converted into a product and, finally, its use in a building, right through to its disposal or re-use/recycling. It considers the impact of a material or product's use during three specific phases.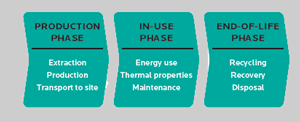 This approach cannot always be used to compare materials or products from different countries, many of which have different climates, energy generation sources, ways in which they are designed, building codes, infrastructure, political influences and building methods, some of which will have a bearing on LCA and Whole Life Cost information.
Environmental Product Declaration
Today the global market increasingly demands science-based, verified and comparable information about the environmental performance of products and services. The demand comes from several market places, such as the raw material supply chain, product development and green (public) procurement. Environmental Product Declarations (EPDs) are one of the potential tools to meet this demand. They are intended to help and support organisations to communicate the environmental performance of their products (goods and services) in a credible and understandable way. An EPD provides relevant, verified and comparable information on a product's environmental impacts throughout its life cycle, taking into account seven parameters:

Environmental Product Declarations (EPDs):
are based on ISO standards. They are suitable as proof of environmental claims in the public procurement arena.
offer the relevant basic data on environmental properties of a product for sales and marketing purposes.
form the basic presentation of data for assessing buildings on an ecological level. This is currently laid down in the new European Standards project 'Sustainability of buildings'. An EPD could be an efficient tool to communicate the positive role that wood products play in tackling climate change. EPDs could also allow the comparison of wood with other (construction) materials.
give quantitative information about the different environmental impacts.
synthesise relevant information on the environmental profile of a product.
are multi-criteria assessments, including carbon footprint.
are based on LCA and verified by an independent third party. This LCA has to follow the relevant Product Categories Rules (PCRs).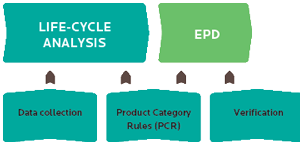 EPDs in Eco-Building Schemes
One of the main uses of wood-based products is construction. Their contribution to the global environmental impacts of a building thus has to be assessed. The estimated contribution also has to be comparable to the estimated contributions of other construction materials.
ISO 14025 – 'Environmental labels and declarations - Type III environmental declarations - Principles and procedures' and ISO 21930:2007 'Principles and requirements - Type III environmental declarations of building products' provide a framework to state the environmental performance of construction products in a way that helps to assess the entire building.
Resource consumption and environmental emissions are recorded throughout the entire manufacturing process. The resulting contributions to climate change, eutrophication and acidification can be quantified and assessed by LCA methodology. LCA also provides a systematic and standardised tool to make the ecological assessment of a building in the 'modular construction system' on the basis of individual building product declarations (statements). In an LCA, the entire life of a building, the construction phase with possible conversions as well as demolition and disposal stages, are taken into consideration. The contribution of the building products to energy efficiency and other aspects of sustainable management is also evaluated.
Read More